January 1, 2009. We saw the new year in with a traditional Southern dinner, served close to noon, that included blackeyed peas, greens (this year it was collards grown in last year's garden and frozen to save), ham, and Southern-style cornbread. Note that old-time Southern cornbread is made with buttermilk, white cornmeal, and contains no sugar. (Sweetened cornbread made with yellow meal used to be called 'Yankee cornbread.') Note that the red splat by the cornbread is ketchup. Some of us reared in the South consider ketchup more than a mere condiment, but almost a necessity at many meals (scrambled eggs, anyone?). If you have never tried ketchup with cornbread, you should. Now, usually, with a Southern-style meal, you would have ice tea (most prefer it to be 'sweet tea,' usually with lemon, but we had apple cider on ice instead. And, yes, several mason jars sit in our glassware cabinet for daily use.
The Wikipedia article link (above) explains the traditional significance of the components of this meal.
In the American South

New Year's Day in Alabama: black-eyed peas, ham hock, and pepper sauce

Eating black-eyed peas on New Year's Day is thought to bring prosperity in the Southern United States. The peas are typically cooked with a pork product for flavoring (such as bacon, ham bones, fatback, or hog jowl), diced onion, and served with a hot chili sauce or a pepper-flavored vinegar.

The traditional meal also features collard, turnip, or mustard greens, and ham. The peas, since they swell when cooked, symbolize prosperity; the greens symbolize money; the pork, because pigs root forward when foraging, represents positive motion. Cornbread also often accompanies this meal.

These "good luck" traditions supposedly date back to the American Civil War. Union troops, especially in areas targeted by General William Tecumseh Sherman, typically stripped the countryside of all stored food, crops, and livestock, and destroy whatever they couldn't carry away. At that time, Northerners considered "field peas" and corn suitable only for animal fodder, and didn't steal or destroy these humble foods.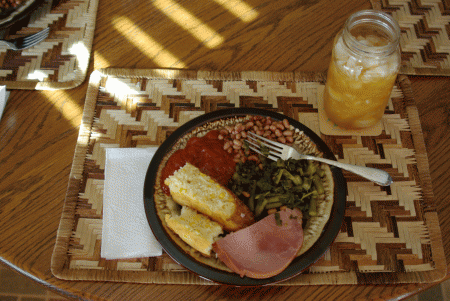 Starting on January 26, and lasting through the night into January 28th, a line of two successive low pressure areas worked their way east from the Texas panhandle directly over the Ohio River Valley and on to the North Atlantic and New England regions of the United States. For about 48 hours the system stretched the entire distance from Texas to New England, and made for a pretty impressive radar image. The NOAA web site has an informative summary page about the storm, January 26-29, 2009, Heavy Snow.
What was more impressive on the ground here in Bloomington, Indiana, was that we were caught for most of that 48-hour period pretty much in the middle of the heaviest bands of snow, sleet, and even some freezing rain and ice. When it was all over by Wednesday morning, January 28, the official Bloomington snow total stood at 12.8 inches. I can confirm from shoveling a path to get just one car out of the garage and into the circle that it was that deep, if not a little more. The city snow removal crew was so overburdened it was Thursday before they were able to get to our subdivision to start clearing the roads and the circles. One of our neighbors used his four-wheel drive jeep to flatten the snow in the circle down by running back and forth. Still, on Wednesday and again on Thursday morning, even though I was able to gun the front-wheel drive Volvo out of the drive through the drifts rimming the circle and get into the middle of the circle, it still took someone giving the car a push to get it out of the circle and onto the road.
Indiana University has  shut down operations only once in the more than two decades I have worked there and one of them was Wednesday, January 28. Road conditions throughout the region were still so bad that after initially planning a delayed open at noon, at 11:30 a.m. IU released to the press, and emailed and phoned using their emergency notification system to all staff and students, the official announcement that the university was closed for the entire day.
The storm took a pretty serious toll, as reported in the following story by Indianapolis TV Channel 6 News.
100,000 Hoosiers Without Power, 1 Dead In Winter Storm

UPDATED: 9:47 pm EST January 28, 2009
INDIANAPOLIS — As the heaviest snowfall in 13 years buried central Indiana under a foot of snow, more than 100,000 homes and businesses in southern Indiana were without power because of ice.

As much as three-quarters of an inch of freezing rain accompanied snow and sleet in the Evansville and Louisville areas.

About 65,000 Vectren customers were without power in the Evansville area. Duke Energy reported more than 64,000 outages, most in Clark and Floyd counties near Louisville, Ky.
…
With nearly 13 inches on the ground in Bloomington and Muncie, Indiana University closed its 39,000-student campus for the day, as did Ball State University, because of hazardous travel conditions.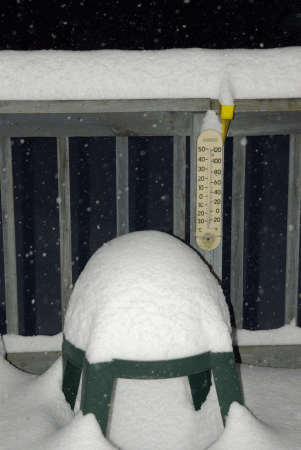 During the storm, the temperature was getting down to 17 degrees or so each night by dawn. The deck furniture was completely covered, as in this shot taken at the end of the full two days of the storm. Of course, as is usual in winter, the cold air moved in behind the storm as the arctic mass pushed south. By Friday morning, Bloomington was officially at -5 degrees (five degrees below zero!) Fahrenheit. Our deck thermometer was at -4. Then by mid-day Saturday it had warmed back up above freezing.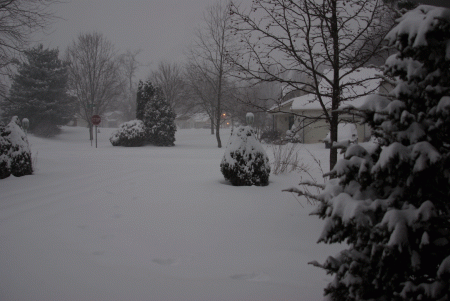 This shot was taken Wednesday out the garage door just as dawn was starting to break, before digging out.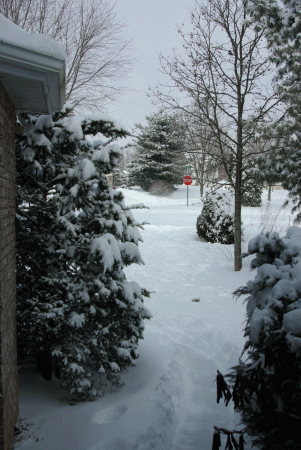 This shot was taken out the front door, after digging a path along the front walk from the driveway.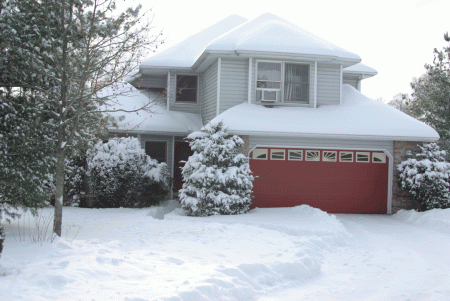 The house after clearing a lane to get at least one car out of the drive.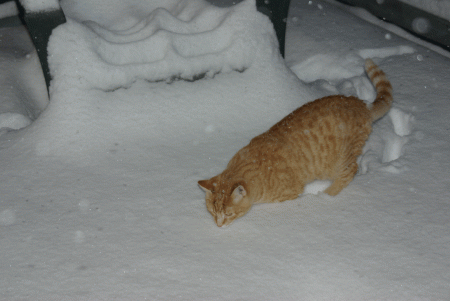 Spenser, the new addition to the household, is now just over six months old. Needless to say this was all very new to him, and he was utterly fascinated. He keeps wanting to get out on the deck, where he gets up on his favorite spot on the railing on the west side, snugged up against the wall of the house, where he hunches down for long periods and watches the world go by. In the sun, of course — even kittens need their battteries recharged.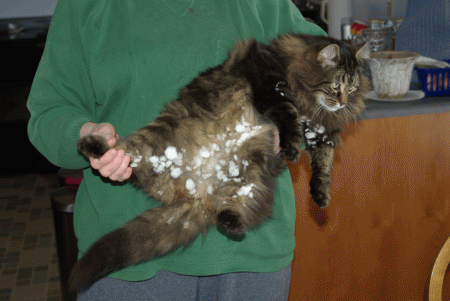 Buckey is our part-Maine Coon cat, usually weighing in around 15 pounds. Bred for this kind of weather, he insists on going out. Sometimes with interesting results, as can be seen here. Mr. Snowcone required about 10 minutes attention to comb all the snowballs out of his fur, where they were stuck as if with hairball glue.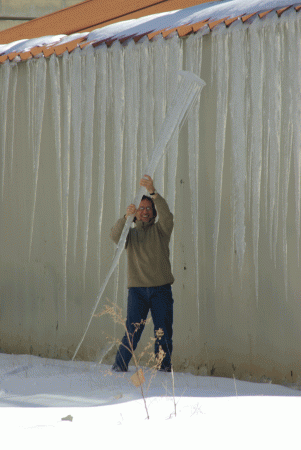 This last shot is an icicle we estimated to be about 11 feet in length. My colleague at work discovered the entire north-facing side of the shed in the background, which is just east of Assembly Hall in the IU Athletics complex, was festooned with these incredibly long icicles from one end to the other. I don't think I have ever seen an icicle quite as gigantic.
Our neighbors to the south in Kentucky have had it far worse, however, as reported in the following article. Compared to the situation there, we got off pretty easy. Nor did the Bloomington area experience any of the power outages that occurred elsewhere in Indiana.
Winter Storm Rocks Kentucky, Wrecks State's Power Grid

With more than 700,000 Kentucky homes and businesses still without electricity Saturday, the state was a long way from recovering after an ice storm left a swath of destruction throughout the nation's midsection.

Kentucky was the hardest-hit. Monday's icy wallop encrusted a large part of the state in a mantle so thick it shattered utility poles, toppled trees and drove thousands from frigid homes to shelters. Officials had previously reported that 607,000 Kentucky customers were without power, but later said that figure didn't include municipal utilities or rural electric cooperatives within the Tennessee Valley Authority system.