See the U.S.A. in your — train! It's the only way to go!
In October, we took a long-postponed vacation to see relatives and visit Seattle, with a side trip to Vancouver, British Columbia. The entire trip took two-and-a-half weeks, with seven days spent in Seattle, four days in Vancouver, and seven days on Amtrak trains. All of it was glorious, except the final day en route home, when train fatigue hit hard and all we wanted was to be beamed directly home.
But that gets us ahead of the story. The adventure began when we boarded an early morning coach car (The Cardinal) from Indianapolis to Chicago, equipped with snacks, reading material, camera bag, and four suitcases (carry-on size). Having done that drive by auto many times, we didn't spend much time viewing scenery, although it was interesting to pull into stations and see small towns we'd never visited. Most train stations and tracks are positioned where they don't interfere too much with the road grid, so from a train window you see a lot of back views of structures and parts of towns that are not scenic, but are rather interesting. On a train, it is the landscape that holds attention.
With a couple of hours to spend in Chicago, we ate lunch at the landmark Lou Mitchell's Restaurant and roamed Union Station, picking up some caramel popcorn at the Nuts on Clark store (heavenly!) as a treat for later. For the rest of our trip, we would have sleeping accommodations, which also covers all meals on board — so technically a snack would not be needed. : ) Nevertheless, yum!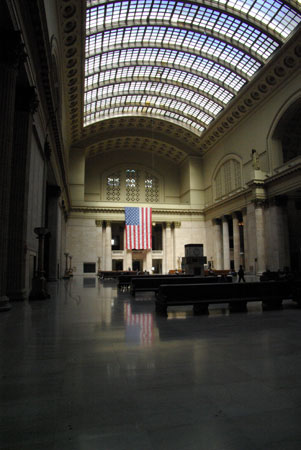 Historic Union Station in Chicago is a reminder of the glory days of train travel in the U.S. Interestingly, lots of train stations appear to have been named "Union Station."
From Chicago, we took the Empire Builder on the northernmost Amtrak route across the country. We passed through Wisconsin, Minnesota, North Dakota, Montana, Idaho, and finally Washington, reaching Seattle mid-morning of the third day. The landscape was northern plains and small towns, but once well within Montana the land changed into the sage-brown that characterizes the low hills preceding the Rocky Mountains.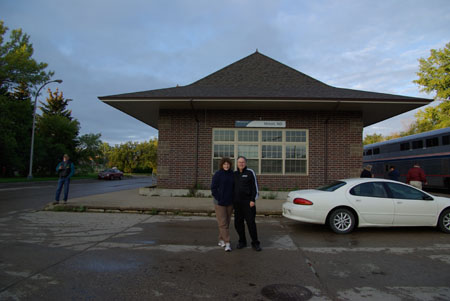 Minot, North Dakota, is typical of the many small stations we stopped at for passengers to board or detrain.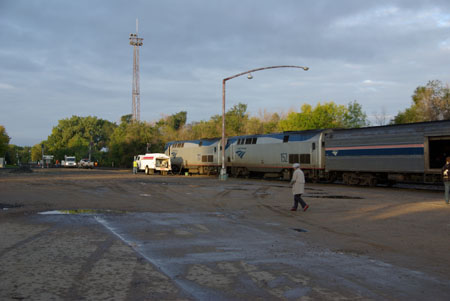 If we stopped long enough, as for refueling, people were allowed to get out to walk or take a smoke break. It always felt good to breathe the air of somewhere new and get a peek at the nearby town.
By late afternoon, we began to see the peaks of the mountains coming at us from the west, and, as twilight fell, we began the climb through beautiful steep valleys into the Rockies, headed for overnight passage through Glacier National Park and on into the northern Cascade Mountains. We had just gone to the dining car, so our view of the breathtaking scenery was excellent — but dinner was neglected while our mouths hung open gasping at the view; unfortunately, we didn't have the camera with us. In the morning, the train came down out of the Cascades into northwestern Washington, on the last leg to Seattle. During this final stage of the trip, the train passes through the second Cascade Tunnel, at 7.8 miles, the longest train tunnel in the United States.
On this leg of the journey, we discovered that accommodation comfort decreases with passenger height. This was not much of an issue for us riding in coach seats because we are right at 6', both of us, more or less. Taller people, no doubt, would begin experiencing discomfort sooner.  But for the Chicago to Seattle trip we had a roomette, in which two people sit facing each other beside a large picture window. While it was tolerably cozy during the day, sleeping was tight. We managed and could have continued to do so for the rest of our train travel. But this was our Big Vacation, so we upgraded to a family bedroom for all subsequent non-coach travel and were pleased with the change.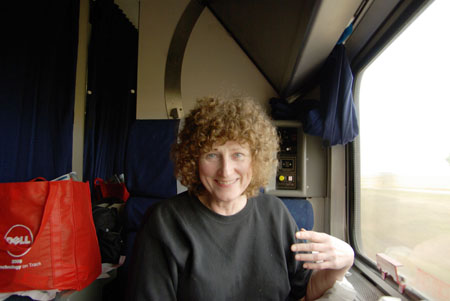 Our roomette, where we faced each other with knees almost touching, was a cozy, private space for talking, reading, and landscape gazing.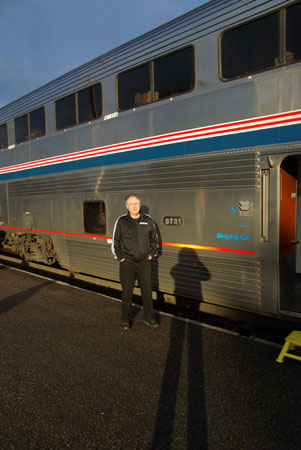 Ron stands beside Carol's shadow outside our window in sleeping car #0731 on the Empire Builder.
Amtrak's family bedrooms are meant to accommodate two adults and two children, stretching across the width of the sleeper cars on the bottom level. Bathroom and shower are nearby and shared with the roomettes. From the time we left Seattle overnight to Sacramento on the Coast Starlight, we were glad for the extra room and comfort. It almost felt luxurious. In a roomette, you have to get up and walk around the train to stretch your legs. There's the length of the train, with stops in the observation or lounge cars for variety. But in a family bedroom, you can walk back and forth in your own space. You can switch seats so you can have a turn by each window, or you can both sit comfortably at one window to share the sights. The latter was perfect on the trip home riding the California Zephyr through the Sierra Nevada, across the desert of northern Nevada, and through the Colorado Rockies, crossing the nation on the path of the original Transcontinental Railroad.
Something interesting we discovered on every train we rode: People form a community in that closed space. Everyone is friendly, sitting together at meals and squeezing past each other in hallways or being tossed into someone during a rough patch of track. Every chance we had, we raised the topic of public transportation and revitalization of the passenger train system. Literally everyone agreed that those things are desperately needed in this country. Maybe we were talking to the choir, because these people were already believers, as shown by their choice to ride a train cross-country. But we found it extremely gratifying that so many people took the issue seriously, had given thought to it, and really want change in this direction. Write your congresspeople, People!
It's easy to digress in talking about trains. Meanwhile, once we arrived in Seattle, we stayed with Carol's cousin, Teresa, and her husband, Rick, who picked us up at the station and drove us around the city for a quick overview. They took us to the Pike Place Market for a tantalizing taste of one of Seattle's landmark attractions. We ate lunch at Lowell's Restaurant, which looks out over the water of Puget Sound. We quickly discovered that fish fresh from the Pacific is different from that purchased in the Midwest. The first of many outstandingly delicious meals in the Pacific Northwest. That night we attended a special showing of More Than a Game, about a group of basketball players centered around LeBron James and their path from youth, through school, to the pros. Author/director Kristopher Belman was on hand to talk about the production and to answer audience questions.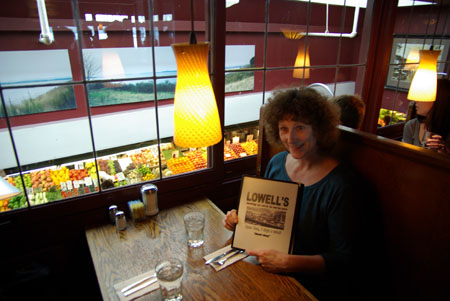 Our first introduction to the Pacific Northwest included, appropriately, a fish market and a seafood restaurant. One of the market's many produce stands, with amazing Washington state fruits and vegetables, can be seen through the window.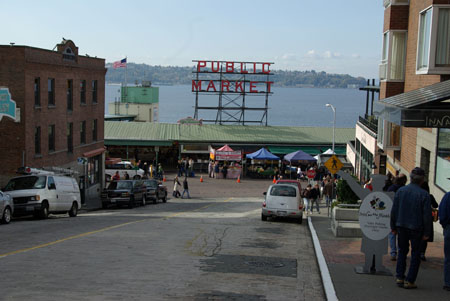 At the bottom of the steep Pike Place hill, from the central part of downtown, is the entrance to Seattle's huge public market, which houses scores of shops, including the famous Pike Place Fish Market.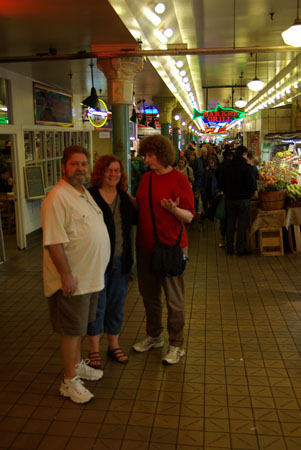 Rick and Teresa with Carol at the Pike Place Market
During our stay with Teresa and Rick, we made great use of Seattle's fantastic public transportation system and rode buses everywhere. That was certainly the first time we'd ever ridden a city bus on the freeway! In addition to our sightseeing excursions on our own, it was a real pleasure to "live the Seattle life" by going to local markets, running errands, and talking about local politics and issues. Seattle is so forward-thinking that citizens even recycle compostible discards. Did we mention the food? Rick is the best cook in Seattle! (At least, that's our conclusion based on the meals he prepared, from the veal marsala to the salmon.) After several days of visiting, we took a four-hour AmTrak Cascades coach train to Vancouver, B.C., where we spent four days and three nights touring the city (see below).
Back in Seattle with Teresa and Rick, we got in more talk, food, and political ranting. A great side effect of the prolonged visit was that our family affiliation became enhanced by friendship rooted in common views. One night we created a "Southern dinner" to commemorate our origins, with Teresa's mother, Carol's Aunt Nell, joining us for a wonderful evening of reminiscing and making plans. On the last night of our stay, we attended Carol's cousin Donna's birthday party, meeting her lovely friends and once again eating delicious food (what is it about that area??).
So, that's the overview. Now for a list, with some details, of what we saw and did in Seattle, in Vancouver, and on the trains home, with links to interesting sites. Notice how little blue sky and sunshine there is. The great gray Northwest is not merely a stereotype; we were apparently lucky to have as much decent weather as we did in October.
Seattle
• Pioneer Square. We did not go into the fabled Underground Seattle because it reeked of mustiness and hostile allergens.
• Hidden Waterfall, blissful distancing from the surrounding city, enveloped by water sound; discovered by accident as we walked to the Klondike Museum, an interesting tribute to the myriad of people who sought their fortunes during the gold rush and those who made their fortunes off the seekers.
• Fire Department Museum, with fire engines and equipment through the 20th century; discovered while looking for the International Area, formerly called Chinatown.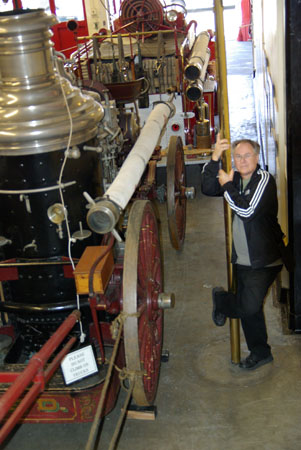 Ron answers the call of duty at the Firehouse Museum.
• Phnom Penh Noodle House, where Carol ate a fish and collards dish that was supposed to be mild but was too hot for even Ron, who documented her foolish courage with a photo of her red face streaming sweat. Nevertheless, delicious! Followed by an incredibly delicious coconut bun from a bakery across the street.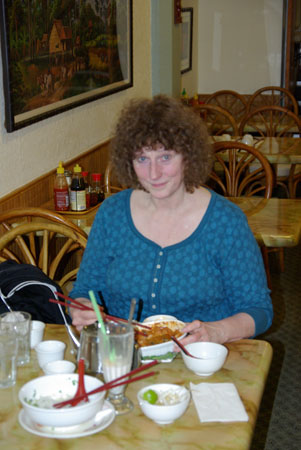 Carol never eats spicy hot food. Never say never. Ron captured her red face and streaming sweat as she actually enjoyed a bowl of spicy fish with collards at Phenom Pen. Thank goodness for the lichee shake; dairy really does quench some of the fire.
• Wing Luke Asian Museum, featuring an exhibit of Roger Shimomura's art and memorabilia documenting efforts to de-humanize and demonize Asian peoples, especially the Japanese.
• Seattle Art Museum, featuring an exhibit of a half dozen or so of Andrew Wyeth's paintings. We also enjoyed seeing Andy Warhol's Elvis a la Flaming Star, which is in the museum's collection.
• Pike Place Market, again, and lunch again at Lowell's. So much to see and so little time to give it proper attention! (Bought edibles from several irresistible places.)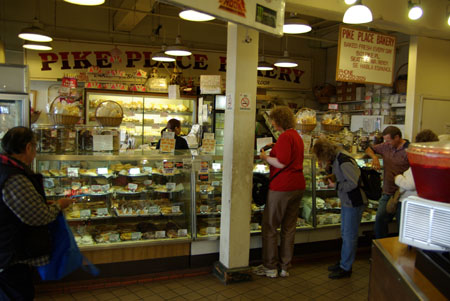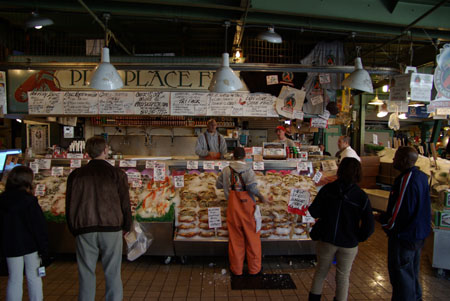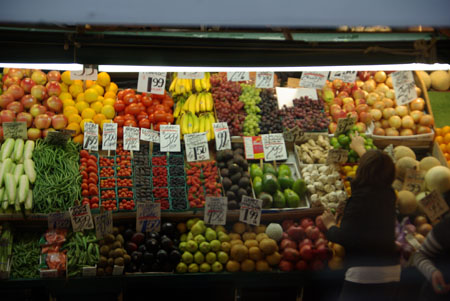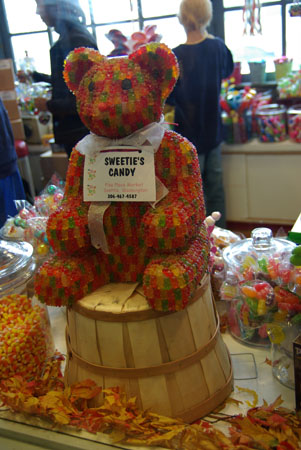 Seattle's famous market is a delight for all the senses. In the lower levels, there are loads of shops to explore, including one that specializes in gummy things.
• Starbucks. The mega-capitalist coffee purveyor is part of the tourist scene as well as the local scene in the Northwest. We looked at the original shop but didn't go in. Instead, we stopped for a much-needed break from walking the Seattle streets at the Starbucks about two blocks from the original. Strangely, it was the best coffee shop we'd ever been in, with the best brew, and music we would have chosen at home. Magic. Too bad that magic isn't the defining characteristic of Starbucks worldwide.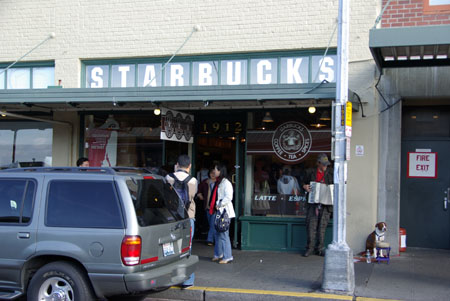 The very first Starbucks, adjacent to the market, was not so interesting to us as its neighbors, especially a cheese shop, a French bakery, and the street musicians.
• Eddie Bauer. Not a notable place for sightseers, but one of the only places we shop, and that usually online. Eddie Bauer, like Starbucks and Microsoft, was born in Seattle, so Carol wanted to go to the Ur-store. Actually, her cousin took Carol to the store closest to her house and it was a good experience. She bought a sweater for Ron.
• University of Washington. Drove around campus grounds, which are lovely. Later, visited a locally favored used bookstore and found a few things to take home.
• Twilight series. Nope, didn't go to Forks, but saw posters and ads everywhere for Twilight-related consumables. As a fan, Carol found it rewarding to see the area.
• Mount Rainer. The physical, metaphysical, and visceral highpoint of the whole trip. (Well, OK, maybe there was a physically higher point somewhere in the mountains we traversed by train, but, trust us, it lacked the sensory power.)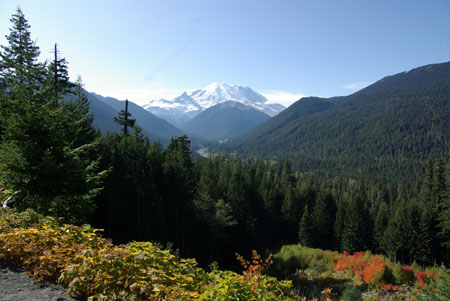 From a distance or closer up, Mount Rainer imposes its majesty on the viewer.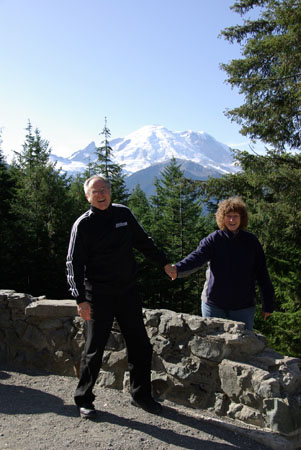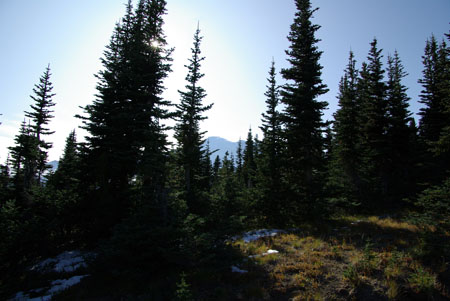 The air — ah, the air was wonderful at 8,400 ft. altitude! It was colder than we were prepared for, having been sleeveless in Seattle for days, but Teresa found warm things for us and we were snug.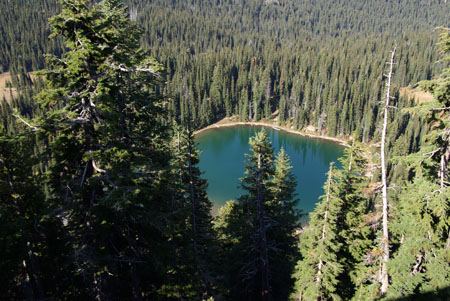 The mountains, the deep forests, and cirque lakes surrounding the great mountain have a glory of their own.
• Space Needle. Amazing 360° view of Seattle and surrounds: city, 'burbs, Puget Sound, islands, gray overcast sky, little tiny vehicles and teensy people below. In a gesture of fond farewell on our last day in Seattle, we ate at the revolving restaurant atop the Needle and, unexpectedly, had one of the best meals we've ever had on a vacation: five-star food and service.
Vancouver
• Cascadia Hotel & Suites. This extended stay hotel was our home for three nights and four days in downtown Vancouver. Very comfortable and with an excellent complimentary breakfast. We ate at the adjacent restaurant, Mi, one night when we were too exhausted to go anywhere and found it to be so good that we ate there the next night for pleasure rather than need.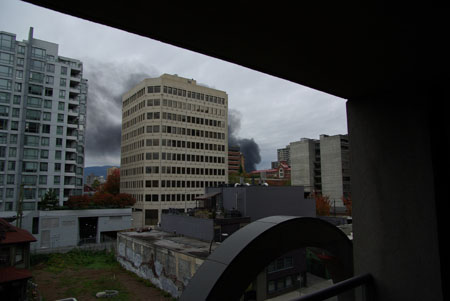 On our first morning, we looked out the window to see black smoke billowing over the tops of buildings. It turned out to be a boat on fire in Coal Harbor.
• Vancouver Trolley. The pitch: Buy a two-day pass and hop on and off the trolley at any of the sights on the route. We did and were pretty glad, but felt it was somewhat overpriced and the afternoon runs ended too early. Still, other than walking, which we did plenty of, the trolley was our only transportation around town and it worked out fine.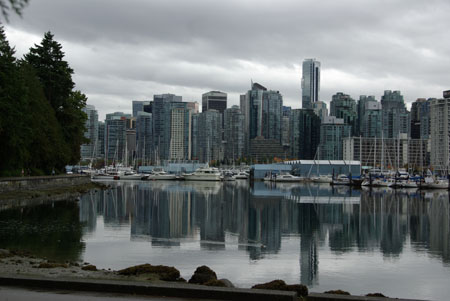 Waiting for the trolley gave time to admire the city across English Bay.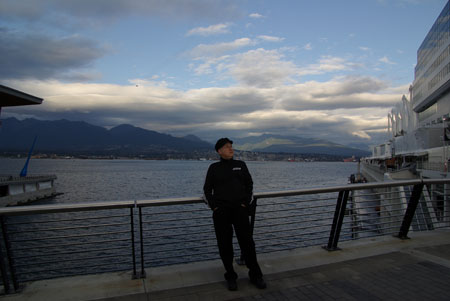 Walking from the visitors center at Canada Place on the waterfront back to our hotel gave us a chance to see downtown Vancouver at street level.
• Sears. Sears? Sears in Canada is a whole different store from the one we know here. Maybe some of the clothing is the same, but everything we saw was good enough to be in upscale department stores. We were greeted at the door by high fashion perfume samplers and saw nary an appliance or tire anywhere.
• Maritime Museum. Really interesting story and artifacts — including the ship that made the passage both ways — of the breakthrough of the Arctic Northwest Passage, along with seafaring history in general. The centerpiece of the Vancouver Maritime Museum is the restored Royal Canadian Mounted Police Schooner St. Roch. Between 1940 and 1942, St. Roch navigated the Northwest Passage, arriving in Halifax harbour on Oct. 11, 1942. St. Roch was the second ship to make the passage, and the first to travel the passage from west to east. There were many other interesting exhibits, including a polar bear.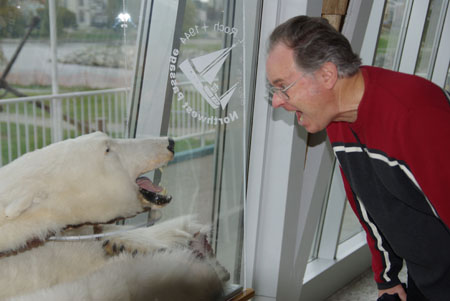 Ron intimidates a museum inhabitant.
• Vancouver Museum. History of the city and its times, from beginnings to today. Fascinating. Many similarities to Seattle.
• Sun Yat-sen Classical Chinese Garden. Our favorite sight to see in Vancouver. Every part of the "scholar's garden" was brought over from China and constituted an unusual partnership between that nation and the builders in the 1980s. A peaceful oasis in a busy city.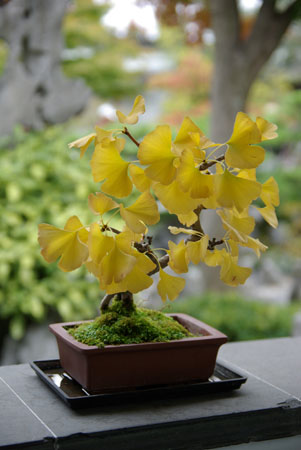 Gorgeous golden gingko bonsai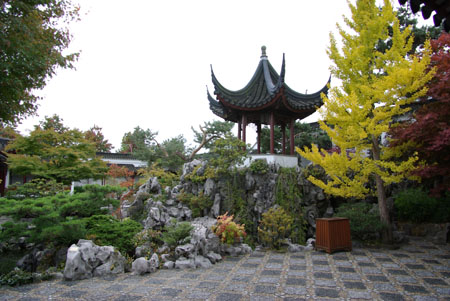 The central feature of the compound is a miniature pagoda on a hill representing the enlightened space reached after the physical and spiritual climb to the mountaintop.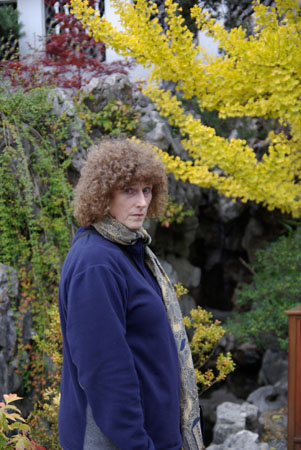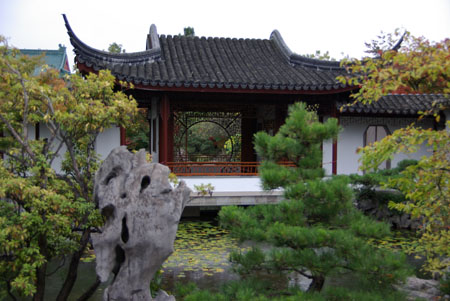 The scholar who might have owned such a classical garden as this would have been wealthy and influential.
• Chinatown. Again a section of town called after only one of the many Asian peoples who live and work there — who says institutional racism is over? We ate at the Jade Dynasty, loving every molecule of the food and enjoying shared smiles and nods with our close-dining companions, all of whom were Chinese. Again, sweets from a bakery across the street, but no coconut rolls, more's the pity. In the most bizarre and saddest moment of our whole trip — which included seeing a lot of hollow-eyed street people in both Seattle and Vancouver — as we waited for the trolley, we watched a gaunt man in a wheelchair stop in the middle of the street to shoot up in his leg; he sat there for several long moments slumping into the rush, then recovered enough to toss the needle to the curb and continue his erratic wheeling down the street.
• Vancouver Aquarium. Carol has a deep and abiding abhorrence for zoos and aquariums. Ron assured her that this one is run on green principles that make it (maybe) tolerable for the creatures. Indeed, there are indeed wonders to behold there.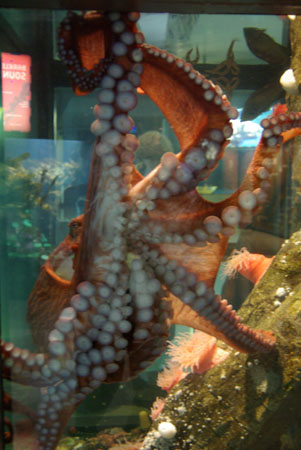 An octopus clings to the glass wall of its home at the aquarium.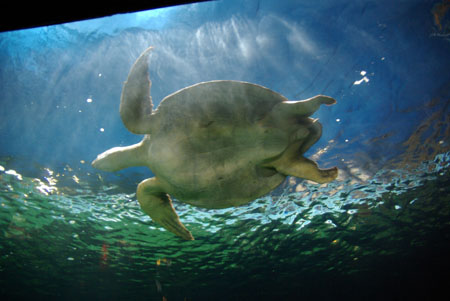 A giant turtle does what turtles do.
• Vancouver. Walked around the peninsula city for blocks and blocks and blocks. It's a very likeable and livable place. We noticed that people are generally better dressed and leaner than in the States. The people are also of many different national and ethnic heritages. A truly international city, worthy of hosting the 2010 Olympics, for which they are energetically preparing. One of our trolley drivers pointed out that Vancouver has practically a Starbuck's on every corner, and we did see two large shops catty-cornered from each other. That's a whole lot of caffeine for a whole lot of people living downtown in a whole lot of high-rise apartments and condos.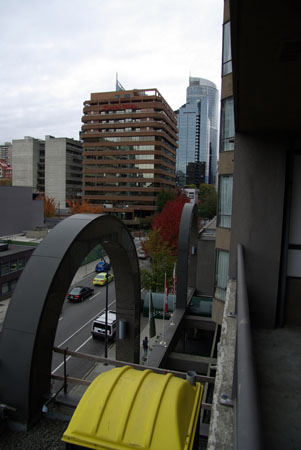 Vancouver home: view from our balcony at Cascadia Hotel & Suites
• Granville Island. Maybe our only disappointment of the whole trip, or maybe Granville wasn't in season during October. Also site of our worst restaurant experience, in fact our only truly bad restaurant experience: a fish joint with more grease than fish, oysters that were inedible, and worst service ever. But we stopped for solace at the Vancouver Culinary Institute as we left the island and made up for lunch with delicious cookies and confections prepared and sold by students.
Home by Train
• Seattle to Sacramento. Rode the Coast Starlight through the Cascade Mountains. Met more wonderful people on this leg. Especially enjoyed talking with a man whose grandfather had been a Pullman porter, a group who figure prominently in Carol's master's research and thesis (and mystery novel). During a two-hour layover in Sacramento, we walked around in the rain and strolled along the wooden boardwalk in Old Sacramento, where a kind man at the tourist office let us in 15 minutes before regular opening hours to see the small museum of the Old West. We didn't have time to tour the Railroad Museum, but we went into the gift shop for a couple of souvenirs.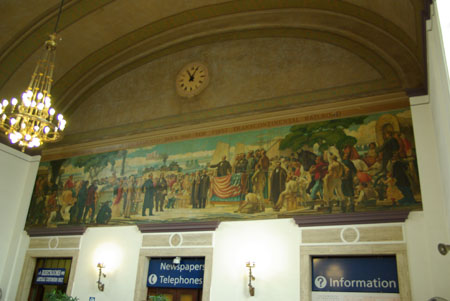 A mural in the Sacramento station depicts the beginnings of the first transcontinental railroad.
• Sacramento to Chicago. The first part of this segment on the California Zephyr was the best of the whole trip: into and over the Sierra Nevada, across desert, and on into the Rockies during daylight. Breathtaking scenery, including a rainbow over Lake Tahoe, eagles, antelope, and wild turkeys, with snow-capped peaks all around. The second half of this segment, which was mostly plains, was pretty boring landscape, although it was interesting to know we were riding the original rails of the old Union Pacific, testified to by the roughest ride of the whole trip. This was also the longest ride of the journey.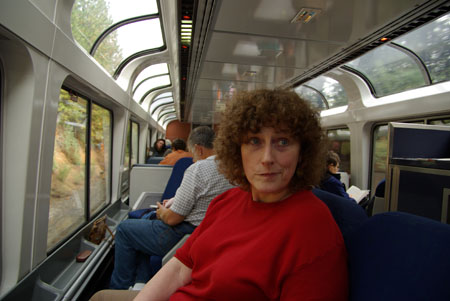 We were comfortable in our family bedroom on the Zephyr, but watching the big views rush by the observation car was fun too.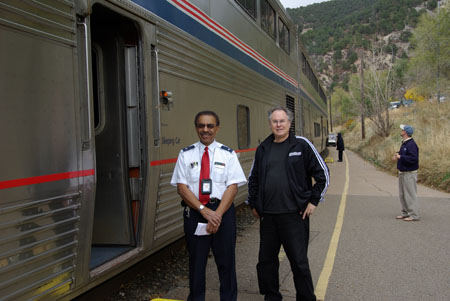 Many thanks to J.R., world's best sleeping car attendant, for making the journey seem smoother than the rails allowed.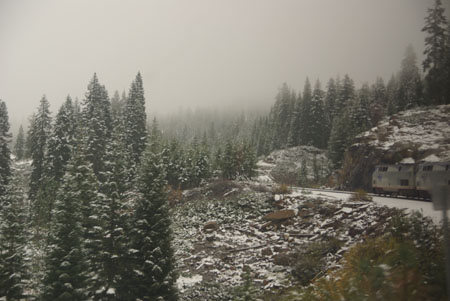 High in the Sierra Nevada, Ron snapped the engines of the train as it curved around a bend.
The train back took us through the Sierra Nevada, past Lake Tahoe, across the northern part of Las Vegas through the desert, then through the Colorado Rockies, much of it through Ruby Canyon of the Colorado River. There are no roads through Ruby Canyon, just the train tracks. Earlier as we entered the Rockies, we paralleled an Interstate highway, which for miles clung to the sides of the steep valley carried on separate paths for the opposite direction lanes, supported on concrete pillars. See below.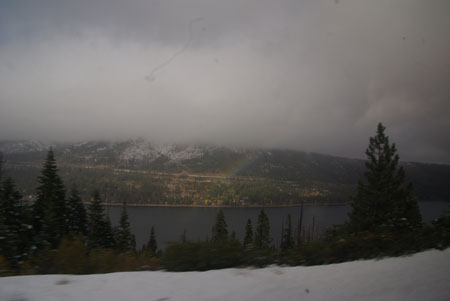 There had been snow the night before in the Sierras. As we passed Lake Tahoe, breaks in the clouds allowed the sun to create a rainbow.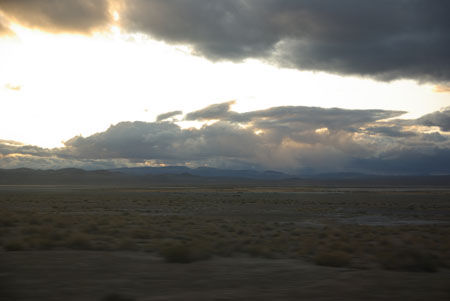 It rained as we crossed the desert in northern Nevada. The landscape seemed to go on forever.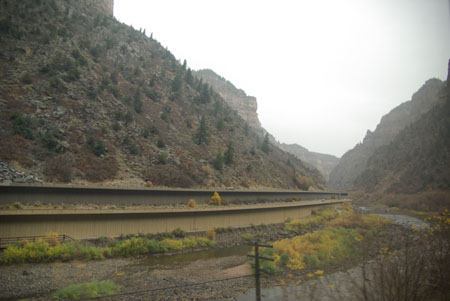 Interstate clinging to sides of canyon through parts of the path as we started into the west side of the Rockies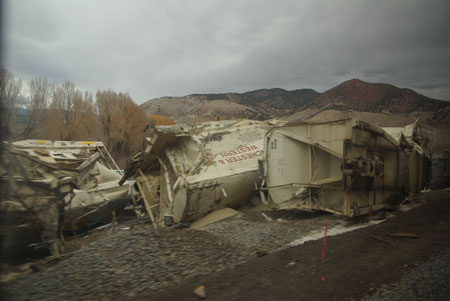 We had to stop on a siding for west-bound traffic to clear, then proceed slowly past crew still cleaning up debris from a freight train that had derailed and wrecked several weeks earlier.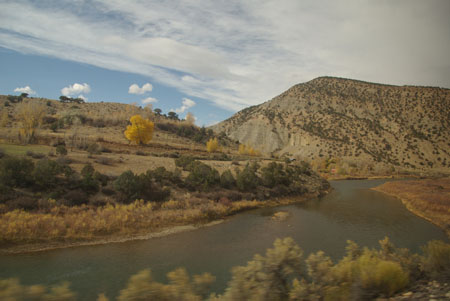 Miles and miles of beautiful scenery. A few hardy souls live in these remote valleys. There is a house just around the bend to the right in this photo.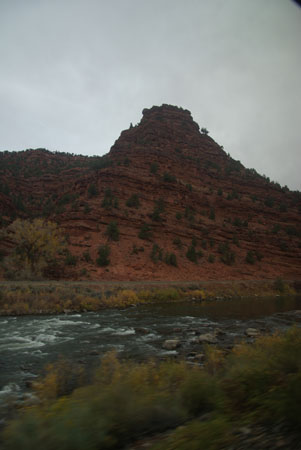 Part of the climb through the Rockies goes through the Ruby Canyon of the Colorado. Here there is only the train, there are no roads through this canyon, whose name is derived from — you guessed it — the mineral content of the soil.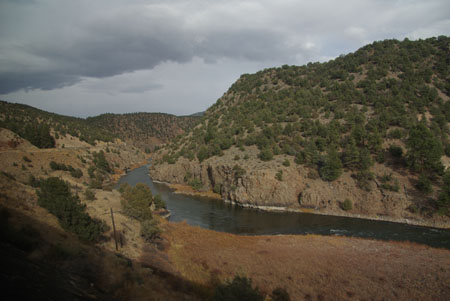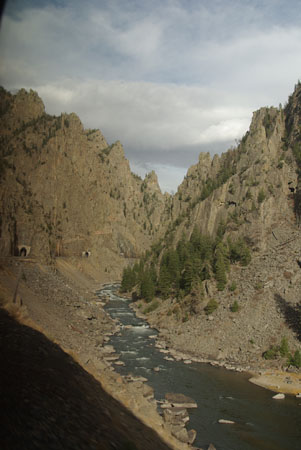 Climbing on through the top of the Rockies. This photo shows two tunnels through side of the valley ahead.
On our last day riding the Zephyr, we awoke in the early hours to the most alarming jostling of the train yet. The old rails across the flat land of the Midwest were not as thrilling at that point of the journey as they might have been when we were fresh. As we drew near Chicago, visions of more caramel popcorn danced in our heads.
• Chicago to Indianapolis on the Hoosier State. By now, we're sooo tired. Fourth day of train riding and five hours to go. Tired of train food, tired of flat prairiescape, tired of our reading material, tired of all the amenities and all the drawbacks. Even with the delicious popcorn to snack on, the night train to Indy took forever. Our butts were sore and our legs were jumpy with inactivity.
• Home again, home again, jiggity-jog! Adding insult to injury, our ride from Indy to Bloomington was in a rattletrap limo with a noisy unsealed window and wretchedly uncomfortable seats. To be fair, our coping ability was at a low. Nothing looks as beautiful as home when you reach it at 2:15 in the morning after being away for two and a half weeks! We were asleep in our own comfy bed within the half hour.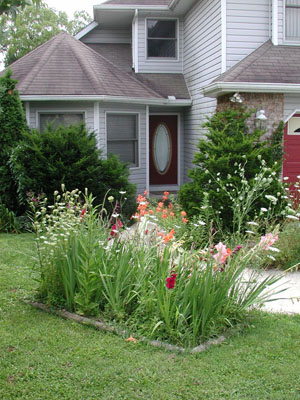 Home sweet home (summer view, not October)

Lesson learned: Sometimes the best vacation can be too long, and sometimes your favorite mode of transportation can be too much. If wishes come true, next time it'll be Canadian Rail from Toronto to Vancouver — deluxe!
Despite the final weariness, this entire vacation was one of the best, we've ever taken — not that we've taken very many over the years; we're more homebodies than travelers. It was made so by a confluence of factors: riding trains virtually the whole way, sustained visiting with family, and seeing an area quite different from anywhere we'd ever been. We can't thank Teresa and Rick enough for their hospitality and help. We wouldn't have seen as much or done as much without their input.