You have to feel sorry for JR Hildebrand. The rookie driver had the win at Indy 500 2011 all sewed up. But instead of just coasting to a finish, he tries to move around a car that he does not have to pass, loses control, and takes his car into the wall. He coasts from there to finish second after Dan Wheldon, who finished first in 2005, and second the past three races. Apparently officials reviewed video, and determined that Wheldon passed Hildebrand's car before the caution light went on, thus meaning he was free to go on and win the race since and was not required to hold position.
Here is the picture I got of Wheldon during the final hour of practice on Carb Day Friday before the race, taken just before 11:00 am practice hour started.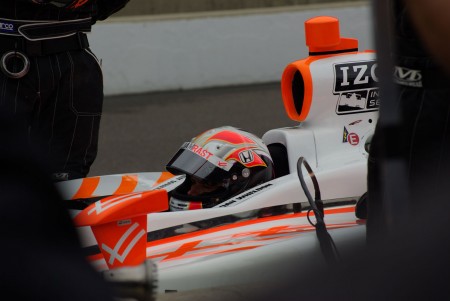 Here is video of the finish on YouTube.